Belts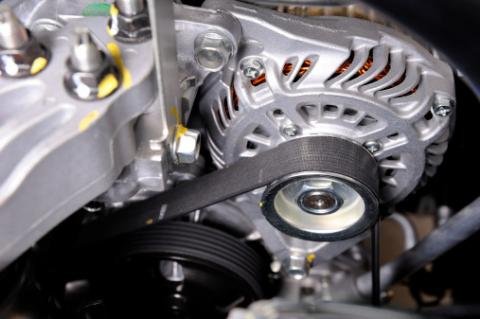 Your vehicle may have a single engine drive belt (called a serpentine), or it may use several belts if it's an older van or truck. These drive belts roll over pulleys which turn and generate rotational energy into each accessory attached to your engine. They typically drive the alternator, the water pump, air conditioning, power steering, and even the power brakes on some larger vehicles.
Examine your belts at every service opportunity
If you have a serpentine belt, the loss of this belt means the van or truck will either overheat or lose electrical power quickly, and you may be stranded unexpectedly. These belts are made of rubber compounds and can stretch, crack, or be damaged by contact with chemicals. It is imperative to examine your belts at every service opportunity, to be certain that every engine system using that belt can continue to operate effectively.
We want to be your first and only choice
We at Fleet Transmissions and Auto Repair want to be your first and only choice for auto and truck maintenance and repair services. Our friendly staff and professional technicians are here to do everything possible to meet and exceed your fleet service expectations! We know you must trust your van or truck to get you from place to play safely, and we want you to know that we'll treat your vehicle with the same care as if it were our own.
Using only the highest quality replacement parts, we take pride in our work because we know our reputation is critical to our success. Please let us know how we're doing! Feel free to call or stop by at any time and let us know how you feel about the services we've done for you. Even though you may first find us as a new customer, we hope you'll drive away satisfied and happy to refer us to your friends!
At Fleet Transmissions and Auto Repair, your complete fleet services center in Oklahoma City, OK we install only quality replacement parts. Give us a call and let us help keep you safely and economically on the road. We serve Oklahoma City and the surrounding areas.